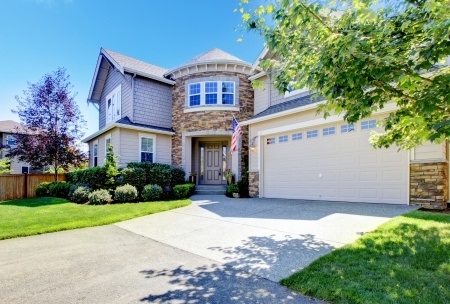 Last week's economic reports included readings on the National Association of Home Builders Housing Market Index, Commerce Department releases on Housing Starts and Building Permits issued and weekly reports on new jobless claims and mortgage rates.
Builder Sentiment Holds Steady, Demand for Homes Pushes Builders
November's reading for the National Association of Home Builders Housing Market Index held steady with a reading of 65. Any reading above 50 indicates that a majority of home builders surveyed has a positive view of current and future housing market conditions. Tight supplies of available homes, steep competition for homes in desirable metro areas and rising home prices pressure home builders to produce more homes, but builder sentiment and housing starts are not always aligned, but data released by the Commerce Department indicates that builders are ramping up construction.
The Commerce Department reported that October's reading of 1.323 housing starts exceeded September's reading of 1.054 million starts and also surpassed the expected reading of 1.170 million starts. This suggests that builders are ramping up construction to quench ongoing demand for homes. October's reading was 25.50 percent higher than September's reading, which was the highest number of housing starts posted since 2007. Starts for multi-family homes of five units or more jumped 75 percent and starts for single family homes of four units or less increased by 11 percent.
Building permits issued in October rose to 1.229 million as compared to September's reading of 1.225 million permits issued. Approaching winter weather and holidays typically cause slowing of construction.
Mortgage Rates Rise after Election
Last week's survey of mortgage rates was mostly completed by the time presidential election results were released; this week's readings showed higher rates for all types of mortgages. The average rate for a 30-year fixed rate mortgage increased from 3.57 percent to 3.94 percent; rates for a 15-year fixed rate mortgage rose from 2.88 to 3.14 percent and the average rate for 5/1 adjustable rate mortgages was also higher at 3.07 percent as compared to the prior week's reading of 2.88 percent. Discount points were unchanged at 0.50 percent for fixed rate mortgages and 0.40 percent for 5/1 adjustable rate mortgages. Low mortgage rates have helped home buyers qualify for financing they need to buy homes; if rates continue to trend upward, demand for homes is likely to ease.
New jobless claims reached a 43-year low last week. 235,000 claims were filed as compared to expectations of 255,000 new claims and the prior week's reading of 254,000 new jobless claims. Low layoff rates point to stronger economic conditions; job stability can encourage first-time home buyers to enter the market and existing home owners to buy larger homes.
What's Ahead
Readings on new and pre-owned home sales, the Federal Reserve's post meeting FOMC statement and reports on mortgage rates and new jobless claims will be released this week.